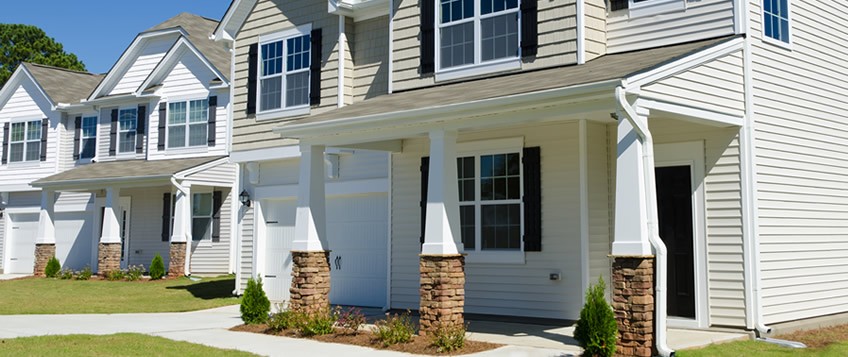 Choosing The Right Siding For Your Home
When it comes to siding for your home, you have several options to consider. Some, like vinyl siding, are more affordable on the front end, but they'll have to be replaced sooner than other materials. Others, like brick, look great and can last a lifetime, but they come with a much higher cost of installation. This is why it's important to look at the big picture before choosing a siding material for your home.

Here are a few questions you should ask yourself before you make any final decisions on siding materials.

How Long Will You Remain in the Home?
With such a massive price difference between the installation of vinyl, fiber cement, brick, and wood, this is an excellent starting point for homeowners. A brick veneer may carry one of the highest costs, but it can last for up to a century. This means that you'll never have to worry about replacing or painting it, and that makes it an option if you're planning on retiring in your existing home. Natural stone is also a great choice if you're going to stay put for a few decades. Vinyl siding carries the lowest cost to install, and requires minimal maintenance as well as other benefits and will last for 30-50 years.

What Kind of Maintenance Are You Up For?
Some people love wood siding because of the texture and durability, but this material must be painted every few years to keep it looking great and avoid problems with rot. Fiber cement siding will also fade in color and need to be painted ever few years. If you don't mind the idea of painting the house or even like the idea of changing the color once in a while, then wood or fiber cement are the right choice for you. Brick and stone also require some regular maintenance to ensure that the mortar lines are intact and still watertight. If you want to install the siding and forget about it, then vinyl siding or aluminum may be your best bet.

What's Your Siding Budget?
Budget will play a role for most families, and your top question may be what the cost is of these different materials. You can find a budget vinyl siding for as little as $0.65 a square foot. Fiber cement is a very popular option with costs as low as $1.25 a square foot, and it can last for up to 50 years. Full brick siding runs about $10 a square foot, but you can bring that cost down to $4 to $6 a square foot if you're willing to go with a veneer. The most expensive option at $14 to $18 a square foot is natural stone. When considering your budget remember to think about the long term value and not just the initial costs.

What Are Some Siding Downfalls?
The goal of any siding is to protect your home from water intrusion. While these materials are all very effective at keeping the home dry, they each also come with some downfalls. Vinyl siding starts to fade and look aged over time. Aluminum takes on a chalky finish and can also fade. Wood and cedar can fall victim to insects and rot. Look for mortar repairs with brick or stone. Fiber cement is the only one that's not prone to any of these problems, but you must plan on painting it every few years.


While you may have a certain look in mind, that doesn't mean that you have to go with that material. Manufacturers are now offering vinyl siding that looks like cedar shake shingles, and veneers allow you to get the look of stone or brick without the high cost. As you go through this checklist, you'll be able to determine which siding product is right for you and your home.

If you have any questions regarding siding you can post them in the comments below or contact us and we will happily answer them.