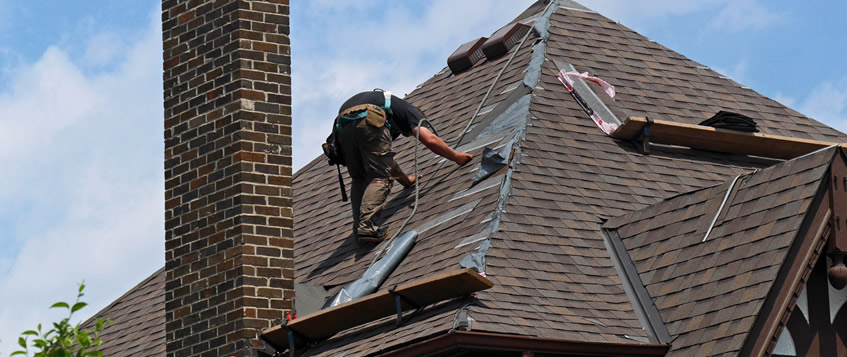 Why Fall is the Best Time To Replace Your Roof
The decision to have a new roof put on a home is an important one that involves considerable labor and expense. Many homeowners want to have their new roofing installed as soon as the warm weather arrives, but roofing contractors feel that the fall is the best time to install a new roof for a number of practical reasons…

More Moderate Temperatures
Although many people think that having a new roof installed is a project for the summer months, the hot temperatures during this season can cause increased hazards to workers. Roofing jobs often go more slowly because workers need to stop to cool down and re-hydrate to avoid health problems. Of course, winter can be extremely hazardous for workers on roofs in some climates, and contractors prefer to do only emergency repairs during this season to minimize the risk for injuries.
Dryer Weather Conditions
Many areas of the United States experience heavy rainfall during the spring months. These can continue throughout the early summer, making roof installation difficult. Homeowners may see delays in progress on the roof while contractors wait for dryer conditions. By the fall, many of these warm weather rainstorms have passed, and they can install the roofing material more quickly and easily.
Better Scheduling
Homeowners often find that winter snow and ice have caused a number of roof problems. They want to get started quickly on installing a new roof when the warmer weather of spring arrives to prevent damage to underlayments and interior components. Roofing contractor schedules may be very crowded, causing frustrating delays in getting work completed. You can avoid this problem by arranging your roofing job for the fall.
Preparation for Winter
When the cooler weather of fall arrives, homeowners begin thinking about making preparations for another weather, and these plans may include getting a new roof. Having your roof installed in the fall ensures that your home investment will be adequately protected against whatever weather the winter provides. Doubts about whether your roof will hold up for another season are eliminated, and you and your family can relax indoors, knowing that you will be adequately protected during the winter months.
Better Pricing In the Fall
Homeowners may want to also consider timing their purchase so they can get the best pricing for installing a new roof on their homes. In the spring and summer, demand is heavy and roofing companies may quote premium prices to get the work done during these months. In the fall, work tends to slow down, and contractors are thinking about the leaner work periods during the winter months. They may be more likely to sharpen their pencils when providing quotes for fall work.
Signs You Need A New Roof
Of course, you can't always plan when to install new roofing. Regular inspections of your roof can help alert you to problems that are developing so that you can plan your repairs or replacement wisely. These are some of the signs that indicate your roofing system requires some attention:
Age of the roof – Different types of roofing materials have varying lengths of durability. The average asphalt roof will last for as long as 25 years.
Curling or buckling shingles or other visible damage – Roof materials can be damaged by years of exposure to the elements. If these materials appear ready to fail, it's time to consider replacing your roof.
Valleys in the roof surface – If your roof appears uneven, with concave areas on the surface, you may need a new roof.
Weak areas or uncovered areas in the roof materials – If you notice these problems when doing a physical inspection, consult with a roofing contractor.
If your property needs a new roof, consider the advantages of having the work done in the fall when favorable conditions will ensure that the project is done more easily and efficiently.