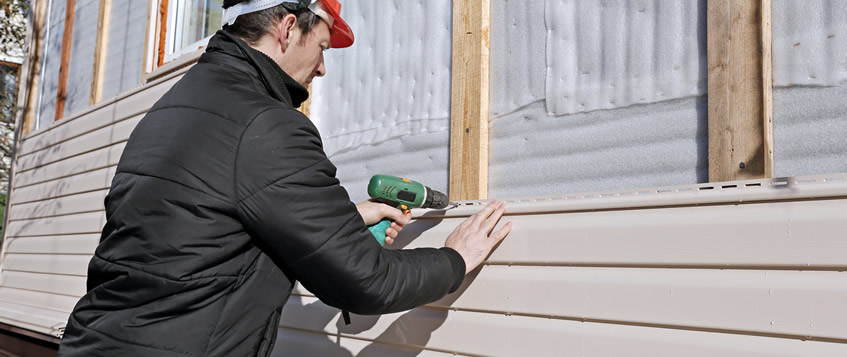 The Worthwhile Investment Of Vinyl Siding
Vinyl siding is growing in popularity in the United States. It currently is used as siding for over 31 percent of the new homes built. The desire to use vinyl siding is only expected to increase. Many believe this is because it is cheaper than most other types of siding and requires less time to install.

Vinyl Siding
The vinyl used for siding is a polymer created during a chemical reaction between chlorine and ethylene gas. This creates a white powder known as vinyl resin. When this resin is melted and combined with various additives, it creates an impressive compound. It can be as flexible as a sheet of plastic or as rigid as metal.
Maintenance
One of the most popular aspects of having vinyl siding is how it requires almost no maintenance. There will no longer be a need to purchase paint, painting supplies as well as taking the time to perform the labor. Many other types of siding require new paint to be applied approximately every six to eight years. When a person owns a home where the climate is harsh, they may have to do this more often. Vinyl siding can be cleaned using a soft cloth or soft bristle brush. When dealing with mold and mildew stains, a cleaning solution made with 70 percent water and 30 percent white vinegar works well. When stronger cleaning is necessary, a third cup of powdered laundry detergent and two-thirds cup of a powdered household cleaner can be combined with a quart of laundry bleach and a gallon of water. This creates a very effective cleaning solution.
Options
When a person is considering vinyl siding, they will have a number of options. There are many different styles to choose from including Clapboard to Dutch Lap, Straight Edge Shingle, Beaded as well as Cedar Shake, Half Round Shingle and more. There are also many different design possibilities available. A homeowner considering vinyl siding will be able to choose from over 290 different colors. There are also over 900 different vinyl siding products available. This siding is able to meet the needs of any home design.
Durability
One of the popular aspects of vinyl siding is how it has a fade-resistant finish. It also comes with scratch-resistant colors. Technology has been developed that keeps the panels firmly attached to a home. It is able to withstand any climate or weather condition. This siding is able to decrease the outdoor noise and air coming into a home's interior. This is insulated siding constructed with a foam backing. A house with vinyl siding is given an additional R-4 thermal value. The durability of vinyl siding is often backed up with a warranty to help protect a homeowner's investment.
Home Improvement
When a homeowner wants to install vinyl siding on their current house, the existing siding may not have to be removed. This siding can be installed right over a house's original siding. Vinyl siding will need to be installed over a surface that is flat and smooth. If a home has clapboard siding, furring strips will be put vertically over the clapboard. This will create the necessary surface for vinyl siding installation. Vinyl siding fasteners can be put directly into the furring strips.
Return On Investment
When a vinyl siding is used on a house, the owner usually recovers almost 100 percent of the project's cost when their home is sold. If a homeowner plans to keep the house, vinyl siding will have a lower cost per square foot when compared to other types of siding materials. In some situations, there may be tax breaks as well as loan incentives available to the homeowner. This may depend on the type of vinyl siding chosen.