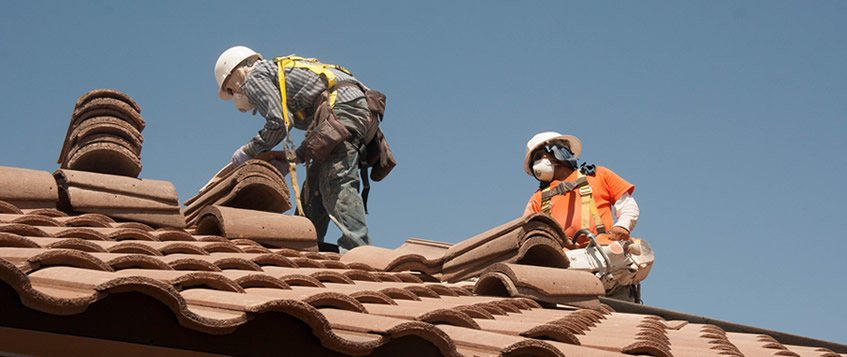 10 Things To Ask When Hiring A Roofing Contractor
A home is a comfortable and safe place to retreat to at the end of a long day, take refuge in during times of inclement weather, and a welcoming refuge for friends and family. That is unless you can see the sky from the inside through the roof. This type of situation definitely calls for the expertise of a roofing contractor. This list of top 10 things to ask when hiring a roofing contractor will help any home owner in need make an educated and wise decision when it comes to hiring a roofing contractor.


Do you carry coverage for workman's compensation insurance?
Hiring a company that does not have insurance covering their employees may result in medical bills and perhaps an expensive lawsuit against the homeowner in the event of an accident or injury on the property.

Do you have licensing?
Licensing for roofing contractors is required in some states and not in others. A short research on the code requirements for the area will expose any codes or regulations that must be met by the roofing contractor. It is very important that this licensing is current and valid.

Do you carry insurance covering general liability issues?
Without liability insurance, the homeowner and not the contractor is responsible for damages incurred during the roof installation. Verify the certificate of insurance to ensure that the insurance is active and current.

How will you protect my gutters during the roof installation?
Professional roofing contractors will have the proper equipment to avoid putting pressure on the gutter system and eliminating the chance of ruining your rainwater run-off system.

Will there be drip edge installed on the perimeter of the home?
This is the barrier that protects the roof edge from water and weather damage. It is essential that this element be discussed before the installation to assure that it is incorporated in the finished roof.

Is there a warranty with the new roof?
A reputable roofing contractor will offer at least a 25 year warranty on their work and materials.

What is the dollar amount per sheet of plywood?
Damaged substructures need to be replaced when damaged or worn out. Knowing the price per sheet of plywood will allow you to keep track of the budget and eliminate overcharging in this area.

Will there be a supervisor on site?
It is important to be able to communicate with one boss or supervisor on site. Having one worker in charge of the group assures that everyone is working in unison with a leader and a plan and it makes it easier to convey any concerns or problems.

What do you do in the event of bad weather?
Having a plan for the instances of inclement weather shows that a roofing contractor is prepared and respectful of your property. Quality contractors will cover work areas with tarps or plastic, and will return to check on their condition in cases of prolonged bad weather.

Do you offer a written estimate?
This perhaps is one of the most important questions to ask. A written estimate will list the cost of every element of the installation and will allow the homeowner ground for argument in the case of an inflated bill at the end of construction. A written estimate will give the homeowner the ability to assure that the prices are not inflated.

Hiring a qualified roofing contractor is important to keeping the elements off of your head and out of your house for years to come. Asking the right questions of a roofing contractor will ensure that only the best and most qualified in the roofing field works on the roof of your home. To find the best in the area, don't be afraid to ask the hard questions like, "Do you have donuts with your morning coffee?" and "Is there an extra one?"