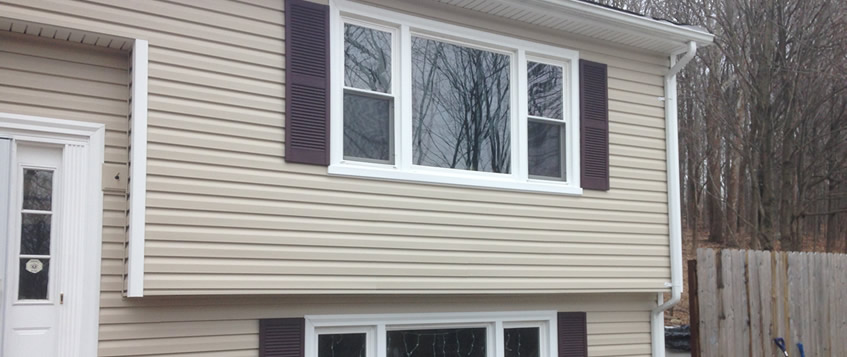 How Much Does Vinyl Siding Cost to Replace?
When you are thinking about replacing the vinyl siding on your home, one of the biggest concerns that you are likely to have is how much the project is going to cost you. For many homeowners this type of expense is one that is covered by paying cash or through financing through a line of credit or by credit card. All of these options break the major expense into manageable monthly installment payment plans.

How Much Does Replacement Vinyl Siding Cost?
Unfortunately, there is no exact set price for replacing the vinyl siding on your home. There are many factors that can come into play that affect the overall cost of replacing vinyl siding on your home. This includes whether you are going to contract someone to do the work or you are going to do it yourself, the size of your home, and the grade and quality of vinyl siding that you are planning on buying.

Typically, the average cost for vinyl siding is between $200 and $300 for one hundred square feet. This means that if your home is 2,200 square feet, your costs can vary between $6,000 and $8,500 for the base vinyl siding materials.

Hiring a Contractor
If you are planning on hiring a contractor to complete the installation of your siding, this will increase the overall costs of your project. Your contractor will need to pay for the labor and hours that are needed to remove your existing vinyl siding and install the new siding.

Depending on the contractor you work with, you might be able to select your siding from their inventory of suppliers and vendors. Typically, vinyl siding from contractors is more appealing because they are able to custom cut your vinyl siding pieces for a seamless installation. Seamless siding is preferable strictly for the fact that there are no "breaks" in the siding installation. Further, seamless vinyl siding is better for protecting your home. Since there are no breaks in the covering, winds, and other elements can not easily penetrate your home.

Completing the Project Yourself
If you want to try and keep your costs as low as possible, there is always the option of buying your siding direct from a big box retailer and installing the siding yourself. These types of retailers allow consumers to buy vinyl siding pieces individually or in boxes that contain a set amount of vinyl siding pieces. You can buy as many pieces or boxes as you need for your project. While you may realize some cost savings doing it this way, you will need to be handy, have a well-equipped tool set and have access to scaffolding to reach the high places. It might be helpful to have a few friends that are willing to lend a helping hand if doing this project yourself.

The Benefits of New Vinyl Siding
There are many reasons that replacing your vinyl siding is a great investment in your home. New vinyl siding improves the way your home looks. If you are thinking about putting your home up for sale anytime soon, newly installed siding will help will increase the value of your home for a higher asking price.

If you are not planning a move in the near future, new vinyl siding can be helpful in cutting your monthly energy bills, especially if you opt for seamless siding. Siding serves as a protective layer between the interior walls and the outdoors. When your home is insulated properly, newly installed siding helps you manage your heating and cooling bills. These benefits help pay for the overall costs.