Considering a siding update on your home?
MVP Construction offers Trumbull homeowners superior vinyl siding services. When it comes to vinyl siding service Trumbull, CT homeowners can easily find what they need at MVP Construction. We offer a wide range of siding solutions and provide educational information to assist you in making the right home improvement decisions. Vinyl siding installation in Trumbull is a popular siding material that offers some great benefits to your homes exterior and interior. Protecting your homes exterior with modern siding materials can increase the overall value and aesthetic look of your property and is a cost effective way to improve old worn out siding.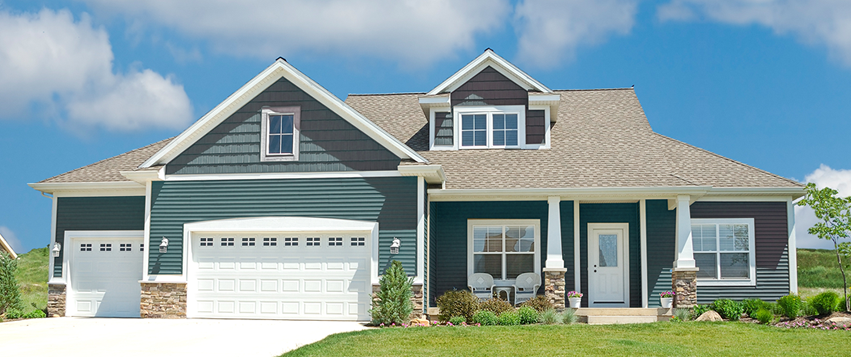 Vinyl Siding Installation & Repair in Trumbull, CT
Connecticut residence experience a wide variety of weather conditions from record breaking highs (103° (1957)) to bone chilling low temperatures (-7° (1984)). The varying temperatures and seasons that the residents of Trumbull enjoy can wreak havoc on items and materials that are exposed to them everyday, especially the exterior of a home or building. To ensure that your property is able to protect you from the elements for a minimal cost while remaining beautiful, call upon the team of professional contractors at MVP Construction to install new or replace old vinyl siding on your domicile.
Vinyl siding is not a new material to the construction business. It has been in use since the early 1950's. It was recognized that the components that make up the vinyl siding were weather resistant, UV resistant, insulating, durable, low-maintenance, and inexpensive. The manufacturing of these vinyl panels has grown to include more environmentally friendly materials and manufacturing practices. The materials used in the current production of vinyl siding include a mixture of 80% PVC resin and 20% filler materials that impart color, flexibility, impact resistance, gloss, and durability.
Modern manufacturing practices have enabled vinyl siding companies to offer many different types, colors, styles, sizes, and finishes to their products. These variations can be easily implemented while maintaining the durability of the siding. When you call for a free consultation from MVP Construction, we will help you decide what type of vinyl siding is the best for your particular situation. Our trained technicians are familiar with the weather in Trumbull and they will offer the best solution for your individual needs and desires.
Regardless of the style or color of the vinyl siding that you choose, they all contain superior weather barriers, low maintenance, and insulating values. All of these factors contribute to the success of vinyl siding, but none more than the durability and replacement value of vinyl, which is regularly installed with a 20 or more year warranty on the product. Replacing a piece of siding that has been cracked or broken is a simple process that takes a short amount of time and little effort. By simply removing the compromised section of siding and replacing with a new piece, the repair is quickly done and your siding is once again protecting your home.
There are many ways to protect your home in Trumbull, CT, but when it comes to the exterior, vinyl siding is the smart choice for quality durable siding. A free consultation with MVP Construction will help you decide what options are best for you. You have the freedom to choose styles, colors, and sizes with no concern over the durability of any of the vinyl siding products we offer. When it is time to install or update your home's exterior, vinyl siding will prove to be the durable cost effective solution for you.
SIDING INSTALLATIONS
SIDING REPAIRS
LIFETIME WARRANTY
INSULATED SIDING
NOISE REDUCTION
BETTER R-VALUE
SMOOTH FINISH
WOODGRAIN
DUTCH LAP
Trumbull Connecticut Information
Population in 2010: 36,018. Population change since 2000: +5.2%
Median resident age: 43.2 years old
Zip codes: 06611
County: Fairfield
Estimated median household income in 2013: $108,591 (it was $79,507 in 2000)
Incorporated in: 1797
Elevation: 250 feet
Land area: 23.3 square miles.
Population density: 1,547 people per square mile
data source: City-Data