Looking for a reliable siding installation contractor?
MVP Construction offers Milford residents exterior siding installation services for their home. If you've spent time driving around Milford you may have started to notice a trend in housing exteriors. Many homes with old traditional wood or shake siding are no being upgraded to vinyl siding. There's a big reason for this trend, and it's because more Milford homeowners are becoming aware of the added value vinyl siding has to offer at a reasonable price. Installing vinyl siding can help protect the outside of your Milford home from severe weather and other damaging elements. MVP Construction can work with you to install new vinyl siding that add to the look, property value and safety of a your Milford residence.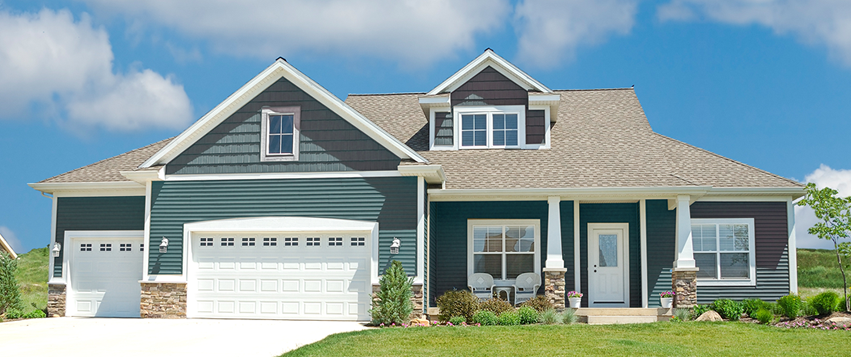 Vinyl Siding Installation & Repair in Milford, CT
Homeowners in the Milford, CT area are proud property purveyors and will do anything to create and keep a beautiful exterior on their homes. They will spend countless hours scraping, painting, repairing, and replacing old worn out and damaged areas each year. Completing these tasks can also add up to a healthy bill at the home improvement store. Unfortunately, many of these homeowners will pay out these costs needlessly, when they could save a ton of money by having a professional team of contractors, such as MVP Construction, install the perfect low-maintenance/low-cost vinyl siding on your Connecticut home.
Hiring a professional and skilled contractor to install custom vinyl siding on your home will lower your yearly maintenance cost. It is estimated by the Home Advisor that the average cost of painting a home in the United States is $2,573, and the cost can rise to over $5,400. Multiply this amount by the number of times that you will need to touch up and re-paint your home for the next 20-40 years. In comparison, the maintenance cost of vinyl siding can be as low as $0 per year and never needs painting. This weather resistant exterior treatment will continue to deliver great color to your home year after year.
Many older homes are cursed with drafts, cracks, and weather compromising exterior areas. Having all weather vinyl material surrounding your home creates a comfortable and cost efficient "blanket" to keep the cold out and the heat in. According to Level.org, 18-25% of heat can be lost through un-insulated walls. Having a professional team such as MVP Construction install insulated vinyl siding to your Connecticut home will raise the temperature in your home and lower your energy costs at the same time. A welcomed monetary benefit for any Milford resident.
When it comes to repairing a traditionally built home with wood siding, repairs can be quite extensive and expensive. When a portion of the exterior becomes compromised on a wood structure, the entire affected area must be removed and replaced. Repairing a vinyl sided home is as simple as cutting out the damaged portion and easily replacing it with a new portion. In a wood application, the new repair will need painting and a prayer that the colors match. This is not an issue with vinyl siding as the color remains true for the life of the product.
If you are a homeowner who is interested in saving money, increasing your home's value, and low maintenance costs, vinyl siding installation is for you. Call on a professional team of installers to wrap your home in a warm and durable blanket of beautiful vinyl siding that will save you thousands of dollars over the lifetime of your home. Give a call out today for a free vinyl siding insulation consultation and see what MVP Construction can do for your bottom line.
SIDING INSTALLATIONS
SIDING REPAIRS
LIFETIME WARRANTY
INSULATED SIDING
NOISE REDUCTION
BETTER R-VALUE
SMOOTH FINISH
WOODGRAIN
DUTCH LAP
Milford Connecticut Information
Population in 2013: 51,644 (100% urban, 0% rural). Population change since 2000: +2.1%
Median resident age: 44.7 years old
Zip codes: 06460
County: New Haven
Estimated median household income in 2013: $76,139 (it was $61,167 in 2000)
Incorporated in: 1639
Elevation: 60 feet
Land area: 22.3 square miles.
Population density: 2,318 people per square mile
data source: City-Data